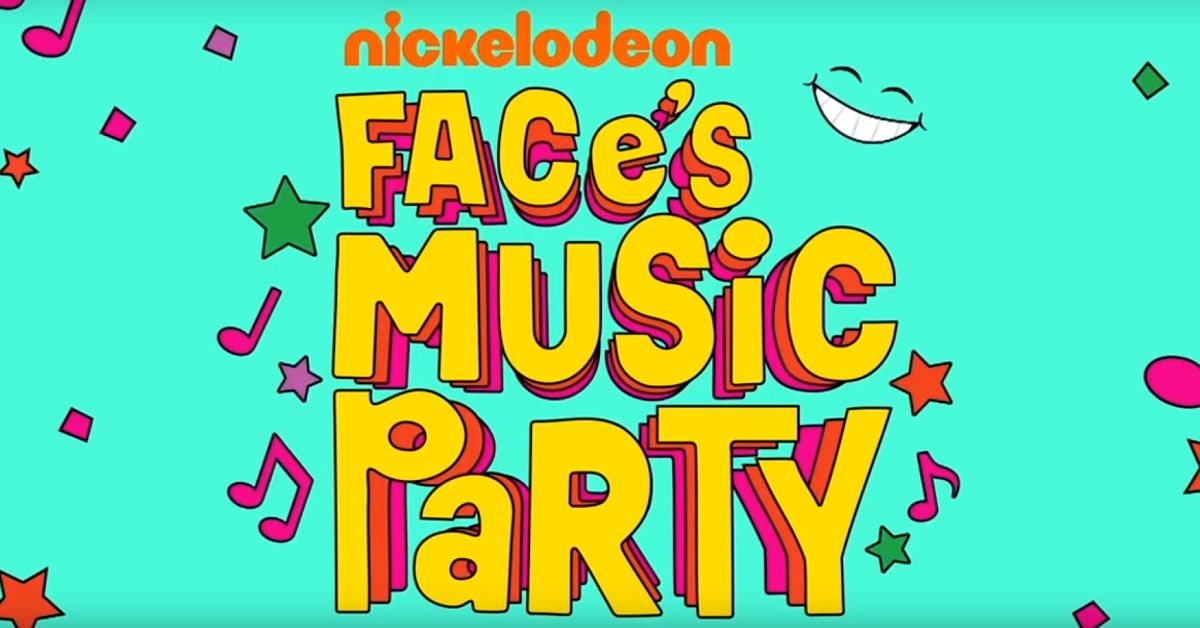 If you've watched Nick Jr., the Nickelodeon day preschool unit in the 90s; there is a good chance that you will remember the abstract colorful character as the host. Face was a simple but polite representative for the young participants. Well, this favorite presenter is back with his own show, Face Music Party!! You can see the trailer of the show below.
Face Music Party will be part of the current "Musical Mondays" for Nick Jr. Face will be central as the host of the show, which will feature covers of children's nursery rhymes and modern hits for the music party. Each episode will have a specific theme that is related to your chosen music, such as pirates, confidence and more. The show will feature segments such as remixes, music videos featuring guest artists, and Face's Music Box, where children will learn about musical instruments and how to play them. The final segments will include in the finals dances that viewers will join at home. Ramsey Knight, president of Paramount Animation and Nickelodeon Animation, said this about the return of Face, as well as about a new program on BusinessWire.
"Face is an OG emoji that has always embodied positivity, inclusiveness and gratitude for music, interaction with children exclusively personally. With the help of Face's Music Party, Nickelodeon will continue to continue its legacy of entertainment that defines the generation, and introduce the iconic Face to a whole new audience of preschoolers.
Face debuted at Nick Jr. in 1994. Through his willing but gentle demeanor and ability to change color, Face has improved the days of viewers of all ages in bumpers, shorts, interstitials and shows. Its simplistic design and charming voice and sound effects such as its branded trumpet "brr brr brr", with three notes, have made it almost easy to fit in any occasion. Face delighted viewers for almost more than a decade until September 2004.
Face Music Party is produced in partnership with Nickelodeon Animation in Burbank, California, and the company, Inc. David Clayler is credited as a showrunner and executive producer. He is also joined by Hema Molchandani and Jonas Morganstein as executive producers. Nickelodeon's production will be overseen by Eric Kazemira, executive vice president of Nickelodeon ANimatino, Global Series Content. Nickelodeon's executive director, who will be in charge of production, will be Nicki Williams. The face itself will be voiced by Cedric Williams (HunterxHunter, The Promised Neverland).
While a former fan of Fresh's new face look may seem harsh, the show's concept is pretty cool. The abstract character who hosts the show about the wonders of music seems perfect. Given Face's love of looking and creating cool sound effects, it seems like a good mix of old and new!
Face Music Party The premiere will take place on Monday, June 6, and will air on Mondays throughout the summer! On Nika Jr.'s music Mondays there will be five hours (7 a.m. to 12 p.m. EST) of musical-themed series. Puppy patrol, Guppy bubble, Peppa Pig, Blaze and the Monster Machines, The great Baby's Shark show, and more! Episodes will lead to a new episode Face Music Party at 11 a.m., after that on Mondays from 12 p.m. to 5 p.m., other content from Nika Jr. will be broadcast.
Stair Review: Was it a homicide or an accident?
Read on
About the Author