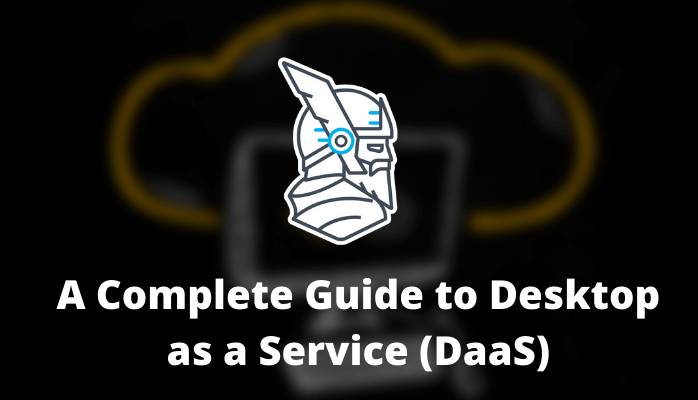 Desktop as a service, or DaaS, is a term used in the field of cloud computing to refer to virtual applications and desktops that are delivered via the cloud to any device and that allows you to deploy safe SaaS and older programs, as well as fully functional Windows-based virtual desktops.
DaaS is a solution that helps IT organizations by delegating responsibility for delivering virtual desktops to other service providers.
How does DaaS work?
User data and applications can be accessed from any web browser or other software if they use the desktop as a service (DaaS), which is primarily offered by cloud computing providers and consists of hosting infrastructure, network resources and cloud storage during broadcast a virtual desktop on a user's mobile device or computer. Companies can get as many virtual desktops as they need using a subscription-based model.
Programs with rich graphics have historically been difficult to use with DaaS due to the limitations of connecting to the Internet, which is due to the fact that desktop software is transmitted over the Internet from a centralized server. New technologies have changed this, and even sophisticated applications such as computer-aided design (CAD), which require large amounts of computing power to quickly display results, can now run on DaaS with reasonable simplicity and without compromising performance. When the load on one server becomes unmanageable, IT managers can move a running virtual machine from one physical server to another in seconds, allowing graphics-accelerated or GPU applications to continue running without interruption. This is especially useful for mission-critical applications.
Desktop-accelerated graphics processing as a service (GPU-DaaS) enables 3D modeling, high-quality graphics, modeling and video production, so engineering and design, media and architecture are some of the industries that can benefit from this technology.
How can using DaaS help organizations increase productivity and reduce costs?
Local or cloudy Virtual Desktop Infrastructure (VDI) it is a software solution that allows users to access virtual desktop sessions hosted on virtual machines (VMs). Organizations can administer a desktop virtualization server just as they manage any other application server on their network using this strategy. Because all end-user computing has been migrated to the data center, initial server deployment to support VDI sessions may be too expensive compared. The fact that end-user devices no longer require regular updates helps reduce this cost.
VDI allows enterprises to remotely host desktop operating systems on end devices from a centralized server, thus increasing productivity and reducing costs. Data is stored exclusively on the data center server; The end point is simply a method for users to access this data over the Internet. Successful implementation of VDI requires a large financial investment in a network of data centers, storage and computing equipment, and the deployment of IT staff with extensive knowledge in the creation and operation of virtual infrastructures. Depending on the number of end users served and the cost of the subscription, cloud service providers cover infrastructure and administrative costs, which some estimate could make DaaS much more affordable than building a new in-home virtual infrastructure.
Using a virtual desktop infrastructure (VDI) or cloud desktop services (DaaS) by a company with a large number of users can save money because end devices do not require large amounts of computing resources (most of the processing takes place in the data center). On the contrary, providing a huge number of users requires a large IT staff that is able to handle any problems that may arise. It is possible that businesses will be able to work with fewer IT staff as a result of the DaaS provider taking on all the problems that end-users may have, such as deployment issues, connectivity issues and other issues.
What are the benefits of using a desktop as a service?
Compared to traditional models, Desktop as a Service (DaaS) offers a number of benefits including simplified management, greater flexibility and lower total cost of ownership.
Using DaaS, organizations can quickly and easily build a digital workplace for their employees who want flexibility in providing remote work options and the flexibility of personal mobile devices. Access their virtual desktop from anywhere and use different types of devices will result in the same presentation as if they had accessed it from the same geographical location the previous time. To perform the task, they just need a computer with an Internet connection. This way, you can constantly back up, as they are stored in a centralized remote location, making it easier for end users to manage backups to manage backups themselves or worry about saving data on a computer in the office but not at home, among other benefits.
Both permanent and non-permanent desktops are available as part of DaaS, and both versions are available from anywhere in the world with an internet connection.
You can customize and save the desktop so that it looks the same every time a user logs on. Therefore, permanent desktops need more memory than non-permanent desktops, which can lead to them being more expensive than non-permanent desktops in the long run.
Because non-permanent desktops are just a way to connect to shared cloud services, they are removed every time a user logs out of their account.
There are many different benefits to using Desktop as a Service (DaaS) as opposed to a traditional desktop computing strategy. When using DaaS active end users can be installed or deactivated much faster and at a lower cost than otherwise.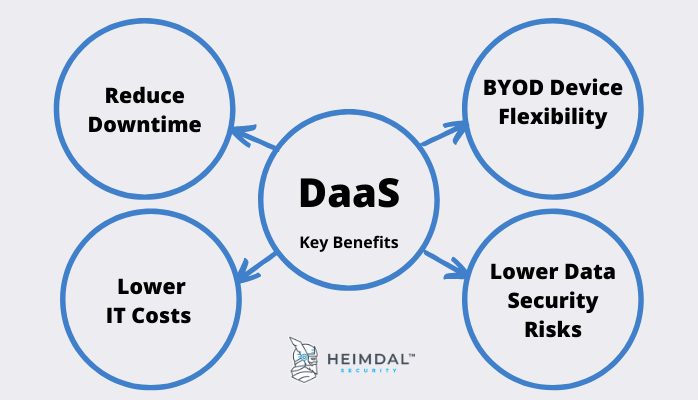 Businesses can provide remote IT support to their employees that helps reduce downtime.
IT support costs can be reduced. Compared to conventional local desktop computing, DaaS is much less expensive.
Higher level of device flexibility can be achieved because DaaS can run on a wide range of operating systems and device types, it can take into account the growing trend of users bringing their own tools to the office, shifting responsibility for desktop support on all of these devices to the cloud service provider.
Data security risks are greatly minimized, as any stolen or lost hardware can be quickly recovered by simply removing the device from the internet connection.
Heimdal Remote Desktop ™, a solution that helps support users from anywhere in the world
Connect with your employees and customers across multiple devices with ease using a secure, ready-to-use and compatible solution. Heimdal ™ maintains communication between agent and agent, dashboard and agent. Remote Desktop.
Enjoy Remote Desktop Heimdal ™ a solution, an integrative approach to remote access and control, designed to help your support team achieve more in less time and from a single app.
Support your users anywhere in the world.
Heimdal Remote Desktop Software
Remote access and support solution compatible with Windows, Mac and Android.
Connect to any device and operating system;

Invite more fans to the same session;

Connect from a Heimdal dashboard or desktop agent;

Double encryption with RSA 2048/4096 and AES-256;
If you enjoyed this article, follow us LinkedIn, Twitter, YouTube, Facebook, and Instagram to be aware of all cybersecurity issues.