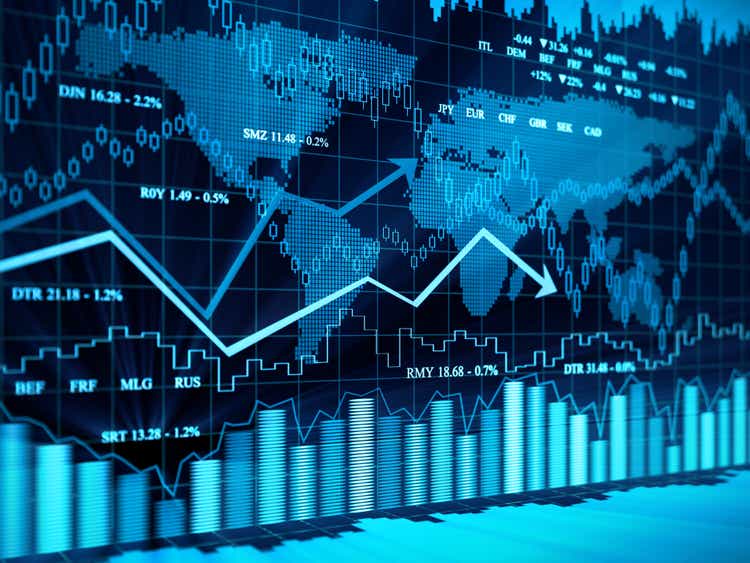 Wall Street saw mixed trading on Thursday, with major U.S. stock averages spending time either side of unchanged. By mid-afternoon, the stock was back in the red.
Trade took place against the ECB raising the rate and more hawkish rhetoric from Federal Reserve Chairman Jerome Powell. Meanwhile, investors are looking for direction after Wednesday's rally allowed the Nasdaq to snap a seven-session losing streak.
The Nasdaq Composite (COMP.IND) -0.6%S&P 500 (SP500) -0.4%and Dow (DJI) -0.4%.
The ECB raised the key rate by 75 basis points, which was largely expected by the market. However, there was some speculation that the doves could make a late push for a smaller boost. The ECB still predicts economic growth in the single currency area, not recession.
"75bps ECB hike," TS Lombard's Dario Perkins tweeted. "Unthinkable 12 months ago. Think about what that means. Either we're in a whole new world or central banks are losing their (minds) over nothing."
The 10-year Treasury yield (US10Y) rose by 3 basis points to 3.29%, and the 2-year yield (US2Y) increased by 5 basis points to 3.50%.
In remarks at a Cato Institute Q&A, Fed chief Powell remained blunt, saying "it's very (in) my view that we need to act decisively, decisively against inflation" and that the central bank must "work until we're done." ." Powell also added that "history cautions against easing policy prematurely."
Turning to economic news, weekly jobless claims continue to show strength, dropping unexpectedly to 222 thousand.
Among active issues, Regeneron is the top gainer in the S&P by positive results blockbuster eye medicine. McCormick is the biggest drop since a cut in the manual.