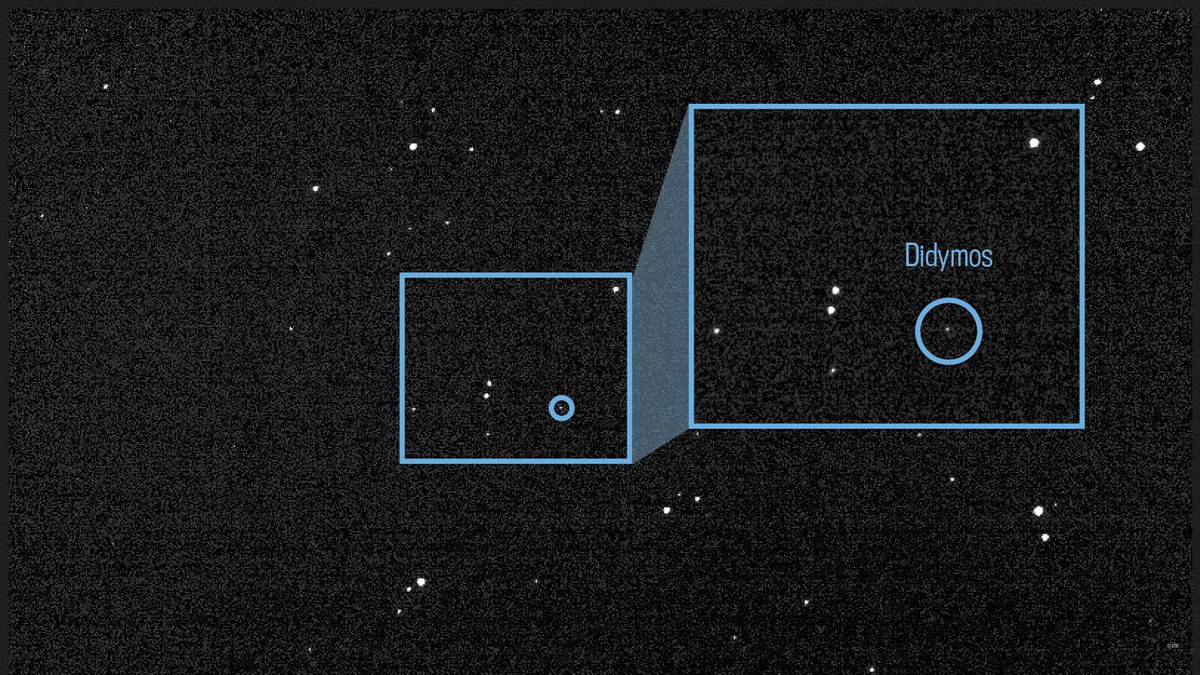 This is not the moon. This is the monthlet it.
NASA Double Asteroid Redirection Test (DART) The spacecraft has just transmitted the first image of its target, the lunar dimorph, as well as its orbiting body, an asteroid Didymos. DART is a planetary defense test mission designed to impact the moon to change its trajectory around Didymos. If proven effective, this spacecraft design could potentially be scaled up to deflect traffic away from Earth asteroid. (Didymos and Dimorphos are not a threat to Earth — they are a testing ground for kinetic impact technology.)
The image, which consists of 243 separate images, comes from a single DART instrument, the Didymos Reconnaissance and Asteroid Camera for Optical Navigation (DRACO); he was picked up on July 27 and released on Wednesday (September 7). It shows both Dimorphus and Didymus as a single point of light – the spacecraft was still 20 million miles (32 million kilometers) from the asteroid at the time, so they appear indistinguishable.
Relatives: NASA's DART asteroid collision mission explained in pictures
"This first set of images is being used as a test to validate our imaging techniques," said DART mission systems engineer Elena Adams of the Johns Hopkins University Applied Physics Laboratory in Maryland, which manages the mission. statement (opens in a new tab). "The image quality is similar to what we would get from ground-based telescopes, but it's important to show that DRACO is working properly and can see its target to make the necessary adjustments before we start using the images to guide the spacecraft. into an asteroid autonomously.'
Eventually, DART will use DRACO to navigate to the impact site completely independently of its ground controllers. But for now, people are the main thing. Over the next three weeks, the team will use the images taken every five hours to make a series of three trajectory correction maneuvers that will guide DART on a precise path to Didymos. Then, for about 24 hours after impact, DART will take control to adjust its final approach.
"Seeing the DRACO Didymos images for the first time allows us to fine-tune the best settings for DRACO and fine-tune the software," said Julie Bellerose, DART navigation lead at NASA's Jet Propulsion Laboratory in California, in the same statement. "In September, we will clarify where DART is headed with a more precise determination of Didymos' location."
After taking these pictures, DRACO checked in with Didymos three more times.
DART will impact Dimorphos on September 26 at 7:14 PM EDT (11:14 PM GMT) — you can watch coverage of the event here on Space.com, courtesy of NASA TV, or directly on the agency's website.
Follow Stephanie Waldeck on Twitter @StefanieWaldek. Follow us on Twitter @Spacedotcom and so on Facebook.