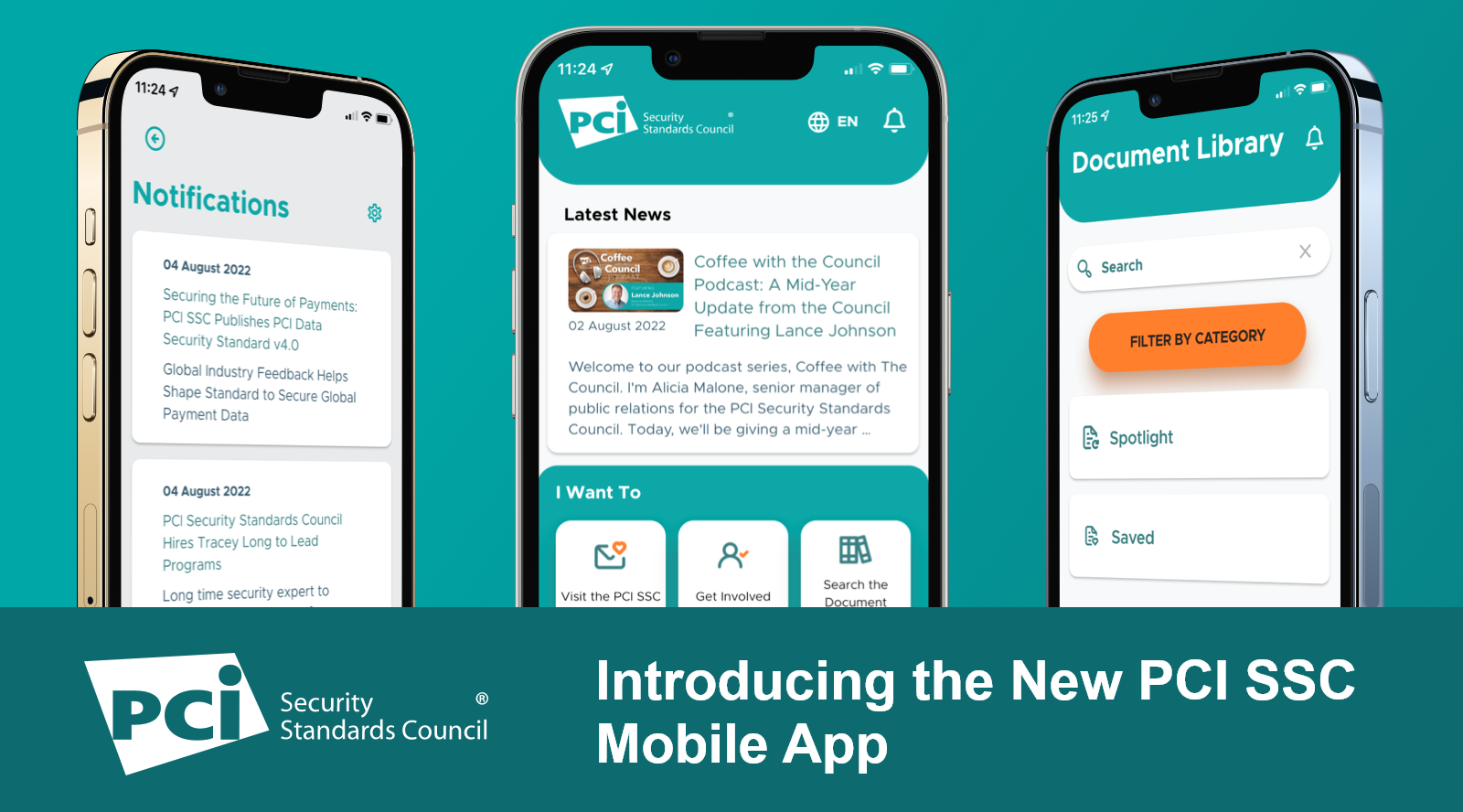 The PCI Security Standards Council (PCI SSC) is pleased to announce the release of its new mobile app. The PCI SSC mobile app enables more direct engagement with payments industry stakeholders, including instant notification of Council news and announcements, and easier access to important resources. PCI SSC has launched its mobile app as a new channel to communicate more effectively with its global community of stakeholders. The PCI SSC mobile app is designed for those involved in payment cards, including merchants of all sizes, financial institutions, point-of-sale merchants, appraisers, and hardware and software developers who build and manage a global payment processing infrastructure.
With the PCI SSC mobile app, you can:
Opt in to receive push notifications
Interested in participating in the comment period on a specific standard? Want to know when new webcasts or speaking opportunities are announced? Want to read the latest blog post? Subscribe to receive only the information you need from the Council in real time as it is published. The notifications feature is the easiest way to stay up to date on the topics that matter to you.
Find and save items
Whether it's a blog post you want to save to read later or a specific FAQ you come back to again and again, the PCI SSC mobile app lets you save items to your personal list. If there's a document you refer to often, an upcoming training class you want to attend, or an industry newsletter you want to read, simply star it so it appears in the list of saved items on the Menu tab.
Easily navigate to helpful FAQs, lists, and documents
Need to find lists of Board trained and approved appraisers? Want access to approved devices and payment solutions? Need the latest information on a specific standard? The PCI SSC mobile app has dedicated FAQs, Lists, and Document Library tabs so you can spend more time working with the information you need and less time searching for it, especially when you're away from your office computer.
Sign up for Council events and training
The PCI SSC mobile app makes it easy to see all upcoming events and training dates at a glance so you don't miss an opportunity. From our annual community meetings and presentations to appraiser qualifications, we bring you information about all our events and learning opportunities in a mobile app.
Assess the security of cardholder data
Most small merchants can use a self-test tool to assess the security level of cardholder data. The self-assessment questionnaire includes a series of questions for each relevant requirement of the PCI data security standard. There are different SAQs available for different trading environments. Check it out in the mobile app.
The Council will continue to assess the needs of its stakeholder community and add new content and features to the mobile app in the future as needed.

Download the PCI SSC Mobile App at: