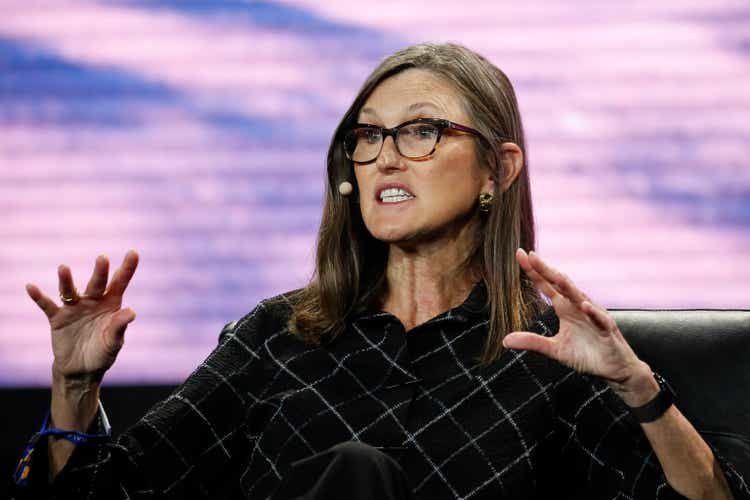 Cathy Wood, who covers innovation topics, believes that Jerome Powell and the Federal Reserve are miscalculating the inflation forecast by raising rates at such a rapid pace.
Wood tweeted with: "Powell is using Volcker's sledgehammer, and I am to believe while being mistaken."
Wood continued, "The Fed makes monetary policy decisions on the lagging indicators of employment and core inflation. Inflation majors such as gold and copper point to the risk of deflation. Even the price of oil has fallen more than 35% from its peak, erasing most of the gains this year."
On September 21str Fed meeting futures are now pricing in an 82% chance that markets will see a 75 basis point rate hike, compared to an 18% chance of a 50% rate hike.
It was just a month ago when markets were pricing in a 68% chance of a 75 basis point hike. Powell's hawkish rhetoric at an economic symposium in Jackson Hole caused a 14% swing, putting the probability of a target rate before the Fed's next meeting at 300-325 basis points.
Cathy Wood's Innovation ETFs along with their year-to-date price performance: (NYSEARCA:ARKK) -57.2%(NYSEARCA:ARKW) -57.9%(ARKF) -58.2%(BATH:ARKG) -43.6%(BATH:ARKQ) -35.7%and (ARKX) -26.3%.
While Wood may think the Fed is making a mistake, Seeking Alpha co-author Reeda Morva emphasized that the hike is pending and won't stop until the Fed believes it has defeated what it initially denied existed — sustained inflation.