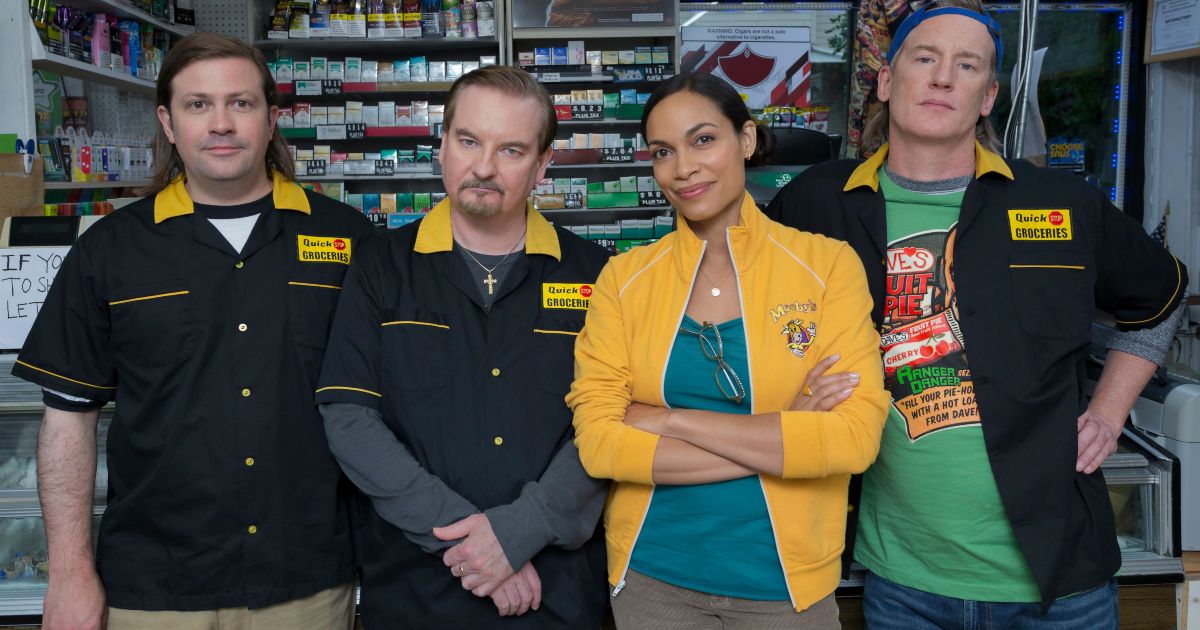 Cinematic universes are strange things. Technically, you can enjoy any single film in the MCU, for example, but who would honestly enjoy the 21st installment of the franchise without having seen any of the others? Avengers: Endgame probably would have seemed like a cough syrup dream if I hadn't seen about 20 other movies before it.
Exactly the same Clerks 3 boring, confusing and very stupid if you haven't seen the previous two Clerks movies or know a lot about the filmography and personal life of Kevin Smith. And vice versa, if View Askewniverse then it means something to you Clerks 3 there will be a surprisingly soulful, touching meeting with friends.
Kevin Smith and the Saga of Clerks
The Clerks the saga isn't just about the friendship between Dante and Randall, two working-class employees (and now owners) of the Quik Stop convenience store; it's also about Smith himself, personally and as a director. Few filmmakers have a fan base that extends from their films to the person behind them, and Smith may top the list.
ClerksSmith's debut and defining moment in the American independent cinema, was a quirky, grainy black-and-white film on a budget made from Smith's comic book collection, maxed-out credit cards, insurance money from a flooded car, and a $3,000 loan from his parents. Smith worked at the Quik Stop during the day, and his employer allowed him to film there at night after 10:30 p.m., meaning Smith slept about an hour a day during the three weeks of production. The result was a cultural phenomenon, winning awards at Cannes, appearing on many critics' top ten lists, and eventually enshrined in the Library of Congress. The organic dialogue, dark humor and sincere friendship between Dante (played by Brian O'Halloran) and Randall (played by Jeff Anderson) were not only funny, but also cute.
12 years later and six films later, Smith brought the heroes back Clerks 2, which found Dante and Randall working at a fast food restaurant after the Quik Stop burned down. There, Dante considers leaving for Florida with his fiancée, but falls in love with Becky Scott (played by Rosario Dawson), who becomes pregnant after their one-night stand. Eventually, Randall and Dante buy and reopen the Quik Stop.
Clerks 2 found Smith at a unique stage in his career in which he became sentimental. He was married with a daughter and went on to make three films that were surprisingly sweet—overly sentimental and cheesy Jersey Girl and two films that combined his crude humor with a gentle commitment to big success (Clerks 2 and great comedy of 2008 Zack and Miri are filming porn). Since then, Smith has experimented with action comedies (Policeman) and horrors (Tusk, Red State), and the sweetness is soured by some pretty dark, weird stuff. Then Smith had a heart attack and almost died Clerks 3 comes in
Clerks 3 is cute and surprisingly emotional
Nearly three decades after Smith's film career began, Clerks 3 finds it nostalgic and sums up his life (film). this the most meta movie he ever did, and that's saying something from a man who directed Jay and Silent Bob Reboot. In the film, Dante and Randall work as their own bosses at a Quik Stop, but aren't quite as happy as they were in 1994. Now in their 50s, an age when the term "best friend" seems a little lame, both men are usually stuck in a rut, and Clerks 3 starts the same way. It's awkward and almost creepy, the jokes don't really land, and the previously funny character of Elias (played by Trevor Ferman) becomes cartoonish and just not inspiring.
What makes the film stand out, however, is its inclusion of emotion. Dante is a rather tragic figure here; Becky and his daughter have died sometime in the last decade, and he's unhappy at the Kwik stop where Randall dragged him to at the end Clerks 2. Sure, he talks to his ghost wife (and Dawson is as adorable here as ever) about all the people she's had sex with in heaven, but his depression runs deep, the iconic "I'm not even supposed to be here today" line from Clerks turning into something more like, "I don't even want to be here today or any other day."
On the subject: Exclusive: Rosario Dawson Talks Surprising Return to Clerks 3
Randall, meanwhile, has a near fatal heart attackwhat if Clerks 3 it starts to get interesting. While recovering, Randall decides to make a film about his and Dante's life, and the rest of the film chronicles their tryst with familiar faces from Clerks movies reprising their roles (not to mention some other great cameos). Jay (Jason Mews) and Silent Bob (Kevin Smith) help with production, and Bob becomes a skilled cameraman, shooting the film in black and white. Like a cinematic ouroboros, Clerks 3 it's about creation Clerkseating the nutritious tail of this amazing trilogy.
Clerks 3 is about the creation of Clerks 1
For lovers Clerks and Smith alike, the rest Clerks 3 is a delightful series of inside jokes and hilarious winks to the audience, who are essentially given front-row seats to create Clerks through the perspective of their own characters. As the movie within the movie unfolds, everyone comes together and gets time to show themselves, but the characters of Dante and Randall in particular are satisfyingly developed. The result is a film that is a love ode to independent filmmaking itself and a touching tribute to Smith's fans.
There are countless clever references to Smith's life and work Clerks, and even its infamous ending, and none of it would be enjoyable without an audience already invested in all of those things. It's Smith preaching to the choir, but it's a fiery sermon with an unexpectedly moving, beautiful finale that cleverly wraps everything up, connecting Clerks The Universe with Smith's Life. It's only fitting that these films end up merging with their behind-the-scenes reality, because Clerksa film so strongly associated with pop culture has itself become part of the cultural zeitgeist (literally: the Library of Congress called it "culturally significant").
Clerks 3 looks cheap but is emotionally charged
On an aesthetic level, Clerks 3 frankly, it feels cheap, which is surprising given the $7 million budget. The comedy is shot with an unusual flatness that only enhances the weakness of some of the jokes. The soundtrack is corny, be it soft pop-punk songs or emotional music. Liran Kakhanov's cinematography is bright and colorful, but feels anonymous, lacking the bold, fun hallmarks of David Klein's great work in Clerks and Clerks 2and if it weren't for the dialogue, that's the feeling Clerks 3 could be directed by anyone.
On some levels, perhaps it's a decision to go back to basics, to create the simplest-looking film Smith could make after years of experimentation; maybe Smith had a heart attack and decided to go back to the beginning, which fits the theme Clerks 3. In that sense, the flatness of the film's style could very well be a reflection of the indie film that Randall is trying to make (some blink-and-you'll-miss-it moments might hint that what we're watching is the movie they're making, though that's a stretch to interpret ).
at the end of the day Clerks 3 kind of like the awkward and tearful but essentially cordial reunion old friends might have after missing each other for a dozen years. The conversation is initially dull and awkward at times, but still pops up with the occasional punchy line that reminds you why the friendship existed in the first place. Dilettante stumbles Clerks 3 don't discount the true honesty and beauty of the second half of the film, and if you're a Kevin Smith fan, you'll be deeply moved by the ending.
Lionsgate, in partnership with Fathom Events, will produce Clerks 3 exclusively in theaters September 13-18.